Chemical Peels
60 mins / from $105 – $160
Chemical peels act by breaking down the proteins that hold the upper epidermal cells together while delivering nutrients deep into the skin. Our medical grade peels are from the wide range of Aspect Dr and Cosmedix. These metabolic peels and retinoid therapy treatments are suitable to address a variety of skin concerns including fine lines, pigmentation, oily and acne skin types.
What is chemical peeling?
Chemical peeling is the application of exfoliating agents onto the skin to ultimately produce regeneration of parts of the epidermis and/or dermis. Chemical peels trigger an inflammatory response and produce a controlled wound that will result in renewal, thus causing a "peeling" effect.
Is it uncomfortable?
Depending on the peel that is recommended, the sensation can vary from slight tingling, itching, and/or warmth to moderate warmth. A cooling device is always provided for you comfort. Peeling agents can be appropriately neutralised if need be.
What to expect after a chemical peel?
Depth, recovery times, and results will vary based on skin pre-peel preparation and the type and strength of peel used. Immediately after the peel, your skin will feel tight and may be red. Application of gentle skin care must be used post-peel, as it will enhance the healing process and results. Any visible peeling will be light and easily controlled with a moisturiser. Peeling usually lasts 3-5 days, depending on again the peel used. Peeled skin is prone to sun damage as new cells are being pushed through, therefore, sun protection is a priority post-peel. Normal activity may be resumed after a peel, however, application of prescription topicals, strenuous exercise, heat-inducing activities and heavy sweating should be avoided for 2-5 days. Peeling skin should be allowed to slough off naturally; picking or peeling of flaking skin is prohibited as it may lead to scarring.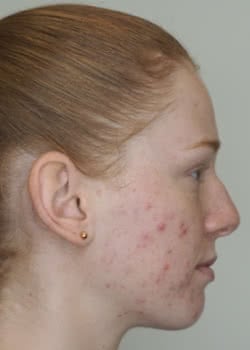 Other Treatments or Products you may be interested in: